What is a Sensory Room?
Sensory Rooms are spaces designed for children with sensory-processing disorders as a place to relax, self-regulate, and reconnect with their senses. Studies show promising results from the use of such rooms, especially for children who have Autism Spectrum Disorder (ASD), but these types of self-regulation tools can benefit all children who experience sensory sensitivities or overwhelm. Many neurodivergent children use stims, or impulsive, repetitive movements of the body or an object, as coping mechanisms for stress and sensory overwhelm, or for self-regulation in general. Common stims include snapping, clicking pens, shaking one's head, bouncing up and down, fidgeting with one's hand or an object, and nail-biting, though the list goes on and on and is highly individualized. Sensory Rooms provide a safe, quiet space in which to experience their particular stims, or to connect with the senses in other ways, perhaps through a variety of sensory-stimulating objects. Children may wish to use the Sensory Room as a dark, peaceful sanctuary, or instead, as a space for sensory exploration and expression.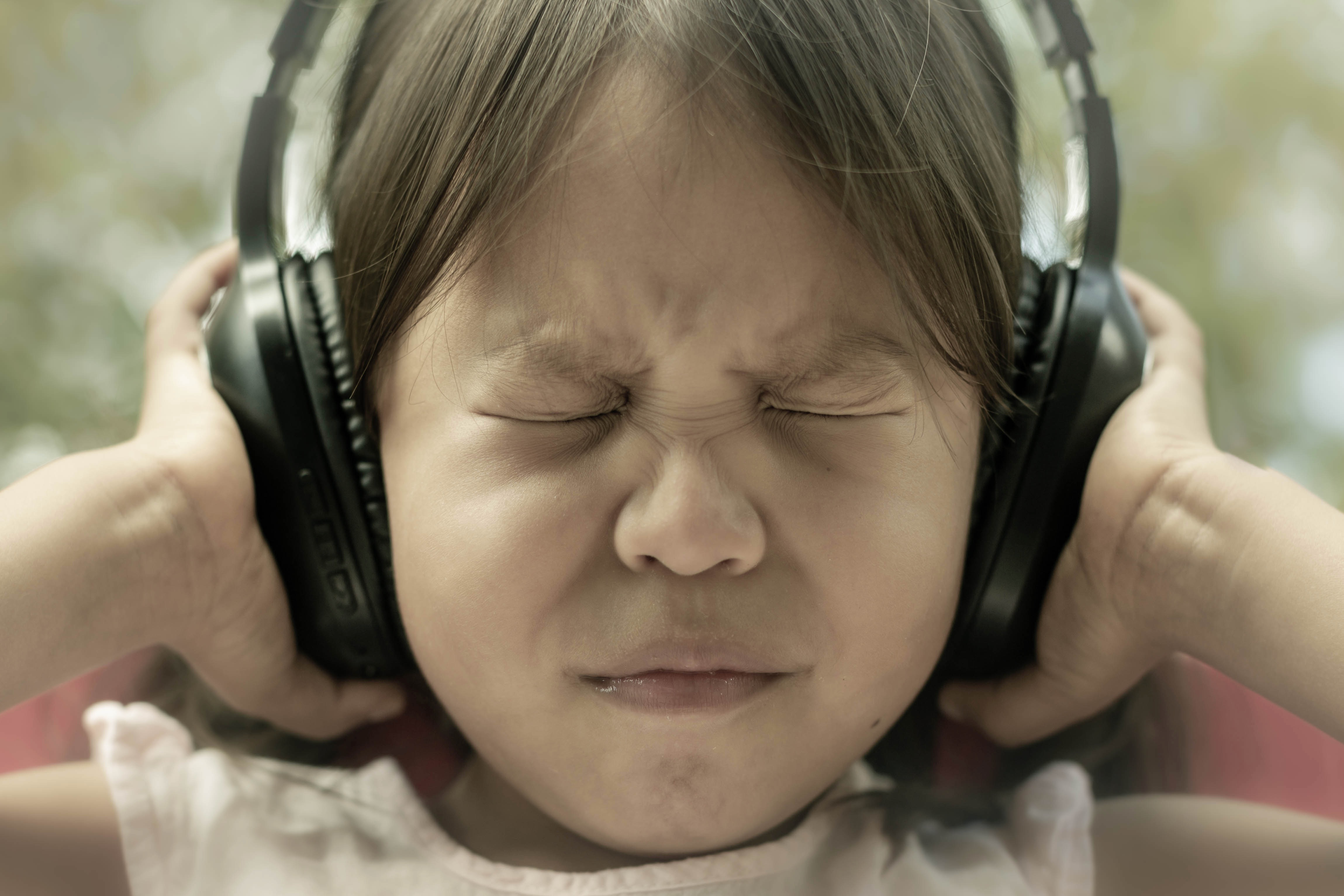 Journey to a Sensory Room
Earlier this month, Nashville Public Library opened its first Sensory Room in the Children's department of the Main Library. Patricia Rua-Bashir, manager of the Children's department, got the idea after working with Vanderbilt Kennedy Center's TRIAD program, in efforts to improve our services and make NPL's Children's programming more accessible for all children. She began this process by collaborating with TRIAD to make our story times more inclusive. One way we improved our story times was by incorporating visual schedules into the beginning of each story time. After making some changes to story time, Pat wondered what other ways we could make our library more inclusive for children with sensory needs. Many things conspired, and the Sensory Room was finally realized in October 2023!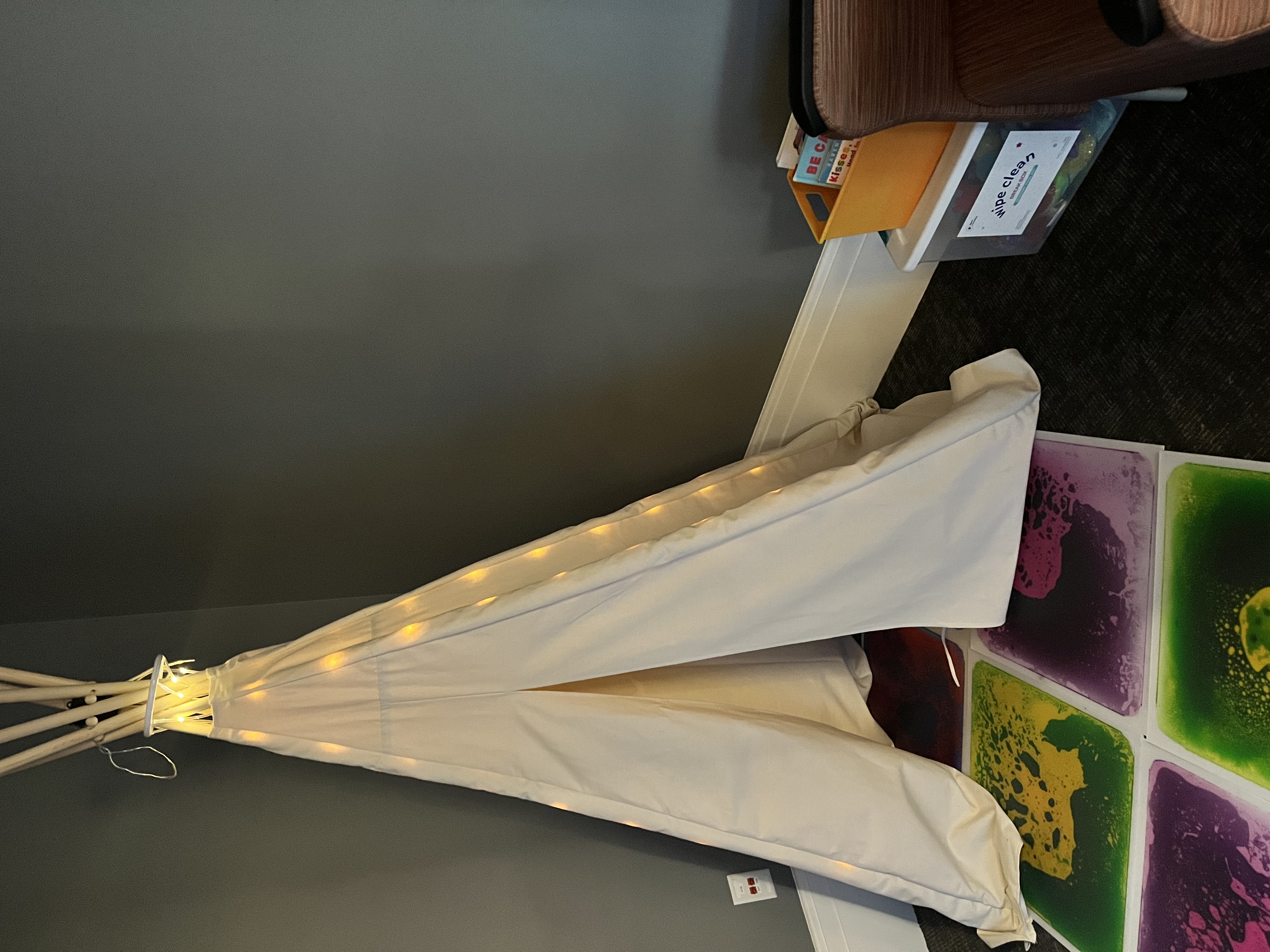 Designing NPL's Sensory Room
Everything in the Sensory Room was selected with care and intention, and Pat worked alongside experts in sensory design from Fun & Function to create the perfect soothing environment. She also conducted research and reached out to other libraries in the U.S. that have created similar spaces, including the Ocean County Library in New Jersey, the Louisville Library in Ohio, and Tennessee's own Hendersonville Library. "I think it's important that even though we're not experts, we surround ourselves with them so that we can help provide these services to the community," Rua-Bashir said during our conversation. Gathering enough funding to create the room was a challenge initially, as Pat had dreamed of housing the Sensory Room in what is currently a Program Room here in the Children's department. However, after making a few adjustments to the plan, Pat realized that it would be best to start small and work our way up, by converting what was a small Quiet Room into the new Sensory Room. Using funds raised from the library's Book Sales, the Sensory Room came into being!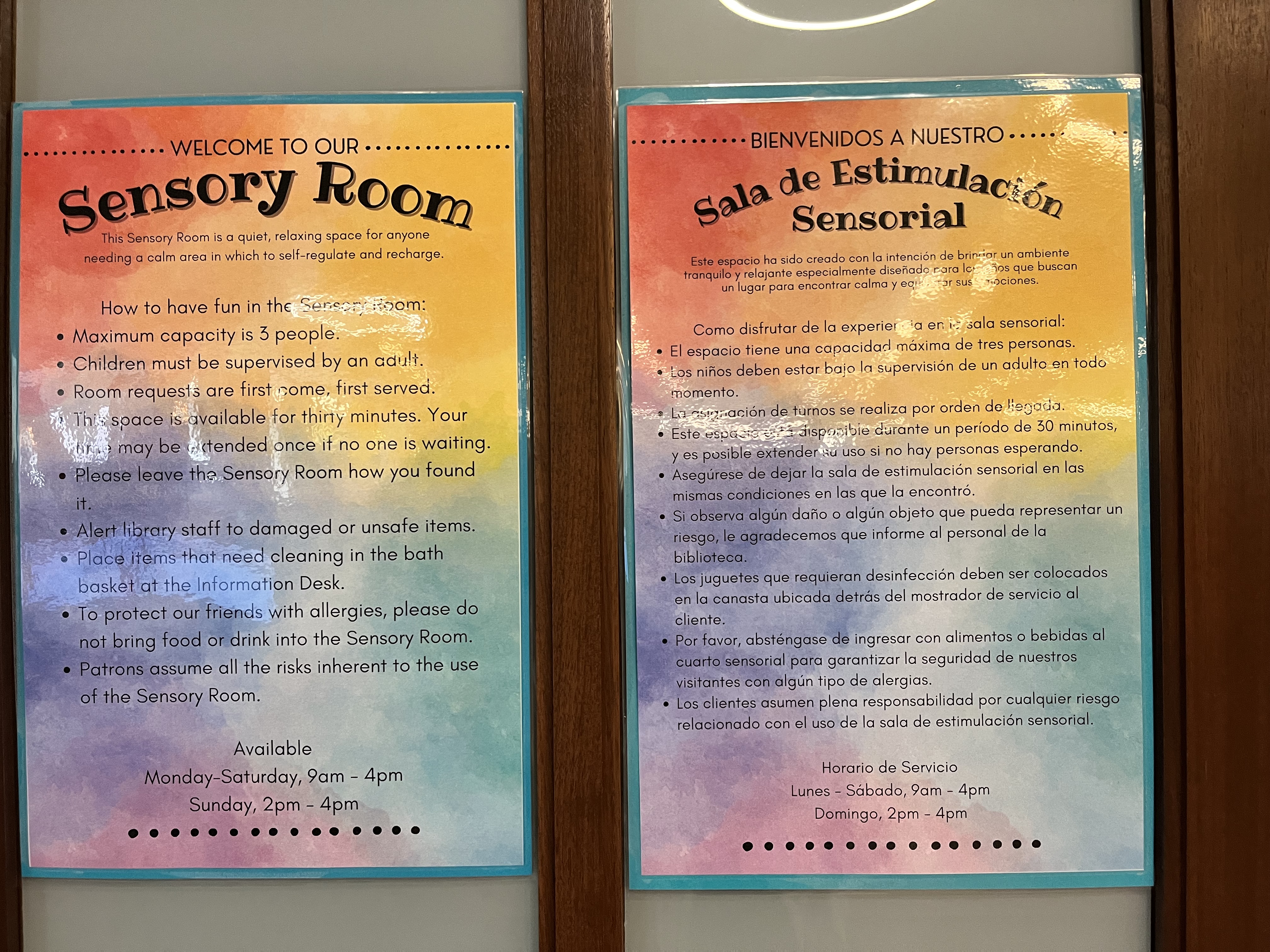 Welcome to Our Sensory Room! ¡Bienvenidos a nuestra sala de estimulación sensorial!
Upon entering the room, you'll see two signs on the door which describe the purpose and rules of the room in English and Spanish for caregivers and their children. Children of all ages and abilities are invited to utilize this space with their parents, but due to the size the capacity is 3 people (but infants are allowed in addition to that number). According to Pat, "One of our goals for our Sensory Room is to help children find a place to self regulate and recharge". This cozy space includes six soft gel tiles, a bubble tube, a comfortable light-up seat, a "Break Box" full of sensory/fidget toys and headphones, some curated board-books, and a sensory tent, adorned with string lights. Inside this tent is a small, color-changing cube for children to look at. The overhead light is covered by a canopy, to soften the glare. Families are also welcome to turn off the lights and enjoy the soft lighting created by the objects in the room. Every object in the room was selected specially to contribute to the creation of a comfortable, cozy, and protected environment. 

More Offerings for Families of Neurodiverse Children
The Sensory Room is not where NPL's sensory-friendly accommodations end, though! Directly across from the space is a special Parenting Exceptional Children resource center, full of informational pamphlets and other references in English and Spanish available for families of neurodiverse children. There is also a Sensory Wall in a completely different section of the Children's department. This wall is located on the edge of the Fiction book section, adjacent to the doors that open into the courtyard (directly opposite the rock-climbing wall). This little wall includes manipulatives such as sand tubes and colorful, wooden pieces for children to play with.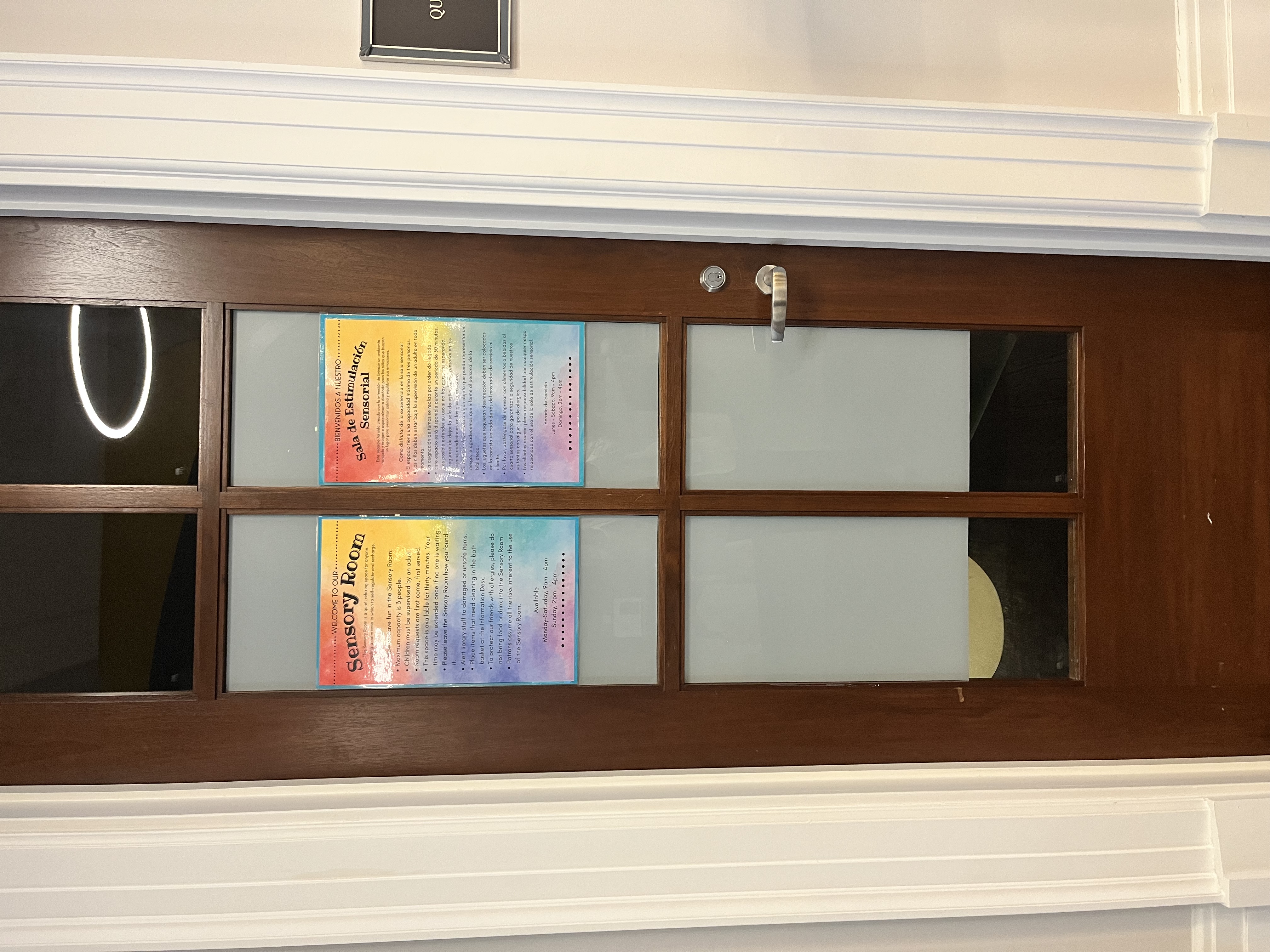 The Future of the Sensory Room
Pat Rua-Bashir has been hard at work bringing the Sensory Room to life, but she has many more plans to continue making the Children's department more accessible. Rua-Bashir led a presentation at the NPL Manager's meeting about the Sensory Room, and how other NPL branches can begin to design and implement similar spaces. She has also arranged visits from TRIAD, as well as Autism Tennessee, to seek advice and feedback about the current Sensory Room. "My wish, now, is to promote it as much as we can, so that people will use it", says Rua-Bashir. Come see and experience the Sensory Room for yourself! The room is open Monday through Friday from 9 AM to 4 PM and Sundays from 2 to 4 PM. 
Books Chosen for our Sensory Room