What great quote did you leave in your senior yearbook? Was it...
"No more homework, no more books! No more teacher's dirty looks!"
or...
"How can I sum up my amazing time here in such a short space?"
or my personal favorite...
"Any pizza is a personal pizza if you try hard enough."
Or maybe you're not sure, but that's where we can help! One of the most visited collections in Metro Archives is our yearbook collection, as it resides just inside our doors on the 3rd floor of the downtown library. And, most importantly, it recently went through a much-needed re-organization and indexing that you can now browse on our website!
Scroll to the bottom of our "explore our collections" page to find it, or click on this link that takes you directly to the index on the Open Data Portal. 
So what does our yearbook collection include, and what are the new updates? Here are the highlights!
Archives' Yearbook Collection 
Our yearbook collection is mostly made up of high school annuals, but also includes younger grades as well as a few universities; both public and private institutions are included. And they've come to us gradually over the years, as opposed to all at once.
They were not donated from the same donor each time, and most importantly - We do not actively collect yearbooks from schools! This is an important distinction to understand because that means we do not have every yearbook published for every school in the county; if only!
Instead, the yearbooks we have came to us from patrons like you, that wanted to donate them instead of throwing them out. Or found them somewhere like a thrift store and thought they needed a good home. They get that with us, we promise. 
Yes, we accept donations if we do not already have the yearbook! No, we DO NOT sell them nor are they available to be checked out. Recommendations for where to find the yearbooks you are searching for:
Your school or alumni organization
Check out thrift stores or used bookstores near you, or Goodwill; sometimes yearbooks are donated to these places. 
Check out classmates.com; you have to create a free account but it has access to older yearbooks in a digital capacity. 
Yearbook Collection Re-organized
Archives Associate, Darnetha Myers, saw the yearbook collection and the index desperately needed a good auditing, and went to town cleaning it up. Instead of the old index that simply included the school name, year, and donor name (if known), she created a more detailed index that you see on our website, with columns notating the following...
School
Yearbook title
Date
School level
School type
Location of school
Location in the archives (all yearbooks before 1950 are kept in our closed stacks area)
So after Darnetha's great work, the new collection is now physically appealing to the eyes since it has been physically straightened and sorted. And the index is out in the digital world for patrons in avid search of an old yearbook. 
And again, if you'd like to browse through the index now, click on this link. 
Metro Archives Baby Faces! 
As a special treat for this post, we decided to put aside our embarrassment of sharing our yearbook photos, and provide you with a little sneak peak of what your Metro Archives staff looked like in high school. No comments from the peanut gallery, please!
Ken, Metro Archivist
David Lipscomb Academy
Kelley, Archives Librarian
Brentwood High School
Darnetha, Archives Associate
Lower Richland High School (South Carolina)
Grace, Archives Associate
Harpeth Hall School
Sarah, Program Coordinator
Father Ryan High School
A Brief History of Yearbooks
And finally, to finish things up. Here's a brief history of how yearbooks came to be.
Though the yearbook we recognize today, with class photos, superlatives, and editorials have not always been the standard for yearbooks, the concept has been around for over 400 years. 
Photography was not invented until the early 19th century, so of course the earliest of yearbooks did not include photographs. They were more like scrapbooks, where people included news clippings, ribbons, dried flowers, hair (believe it or not), invitations, and any other mementos collected throughout the school year. 
One college yearbook we have that is the exception to that rule, is from the Nashville College for Young Ladies (that used to reside on Broadway near 9th Ave, at the end of the 19th century). These are some of the oldest yearbooks we have, and include several photos throughout the books like this one...
It wasn't until the early part of the 20th century or later that you started to see more images than text, or ephemera, in yearbooks. The earliest text would be editorials, memories, class obituaries, and signatures! Yes, signatures have long been a commonality in yearbooks but used to be more poetic than they are now.
According to an interesting Atlantic article that I recommend if you'd like to learn more about the history of yearbooks, "signatures in these early yearbooks were often lengthy and mainly focused on friendship and remembrance." They'd include excerpts from phrases or poems such as...
"When the future is present, and the present is past, may the light of our friendship burn bright to the last."
Like the general design of the yearbook morphing throughout the 20th century, signatures evolved as well. After these long poetic phrases, signatures eventually shortened and apparently became altogether boring in 1935, when students and faculty signed just their signatures on designated pages for autographs. This didn't stick, of course, as history has showed us through the yearbooks of our family members and our own. 
Photos in yearbooks changed over time, showing more classes and individual portraits, as well as students in action. And the signatures became more humorous; for example, variations were created with the "roses are red" poems, or acronyms like URAQT (you are a cutie).
A history could be written simply on the evolution of yearbook signatures, and I'd love to continue digging through the past of this bittersweet symbol of our youth, but I'll simply end this blog post with a trivia question and a few more photos from our collections!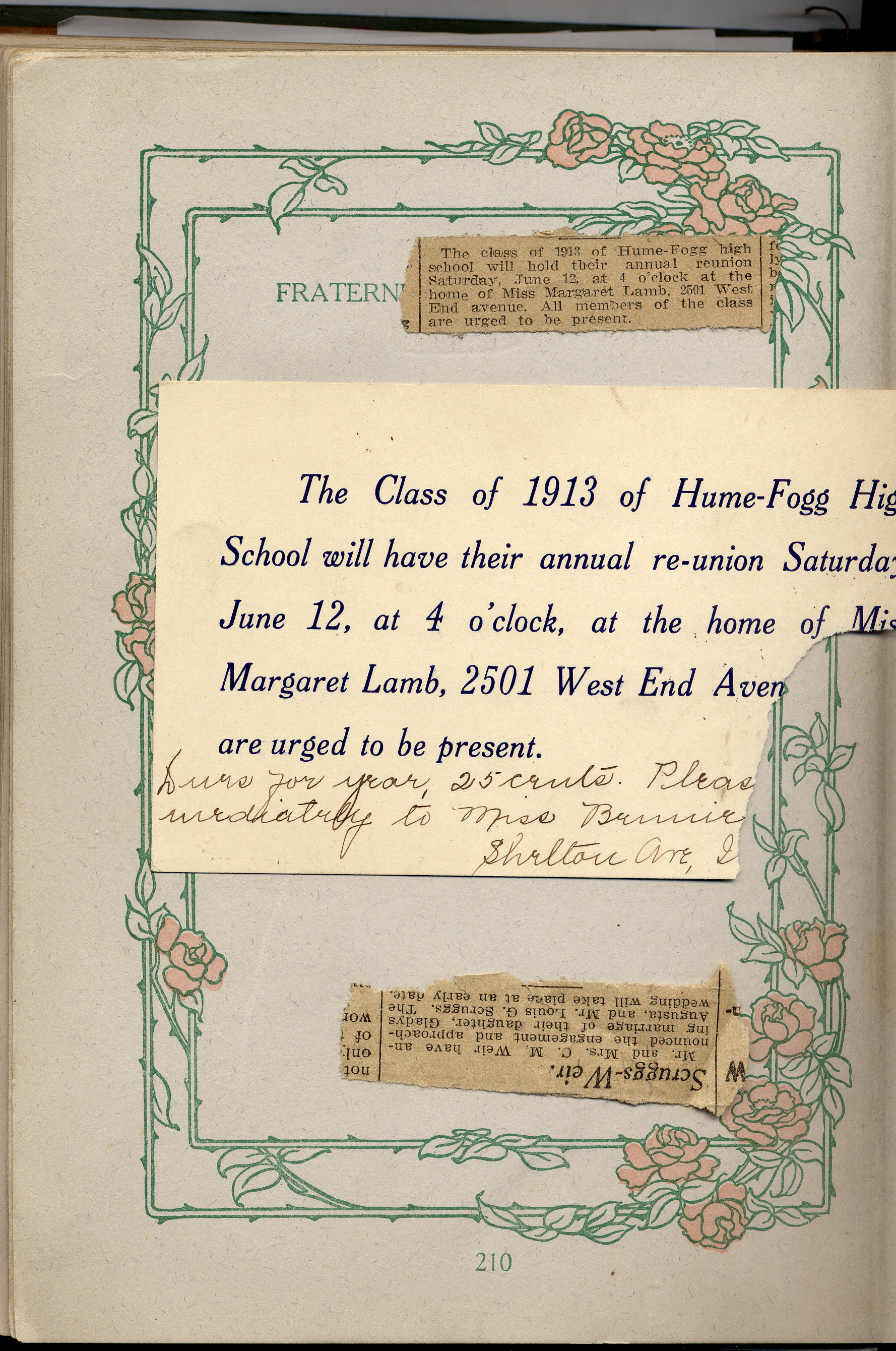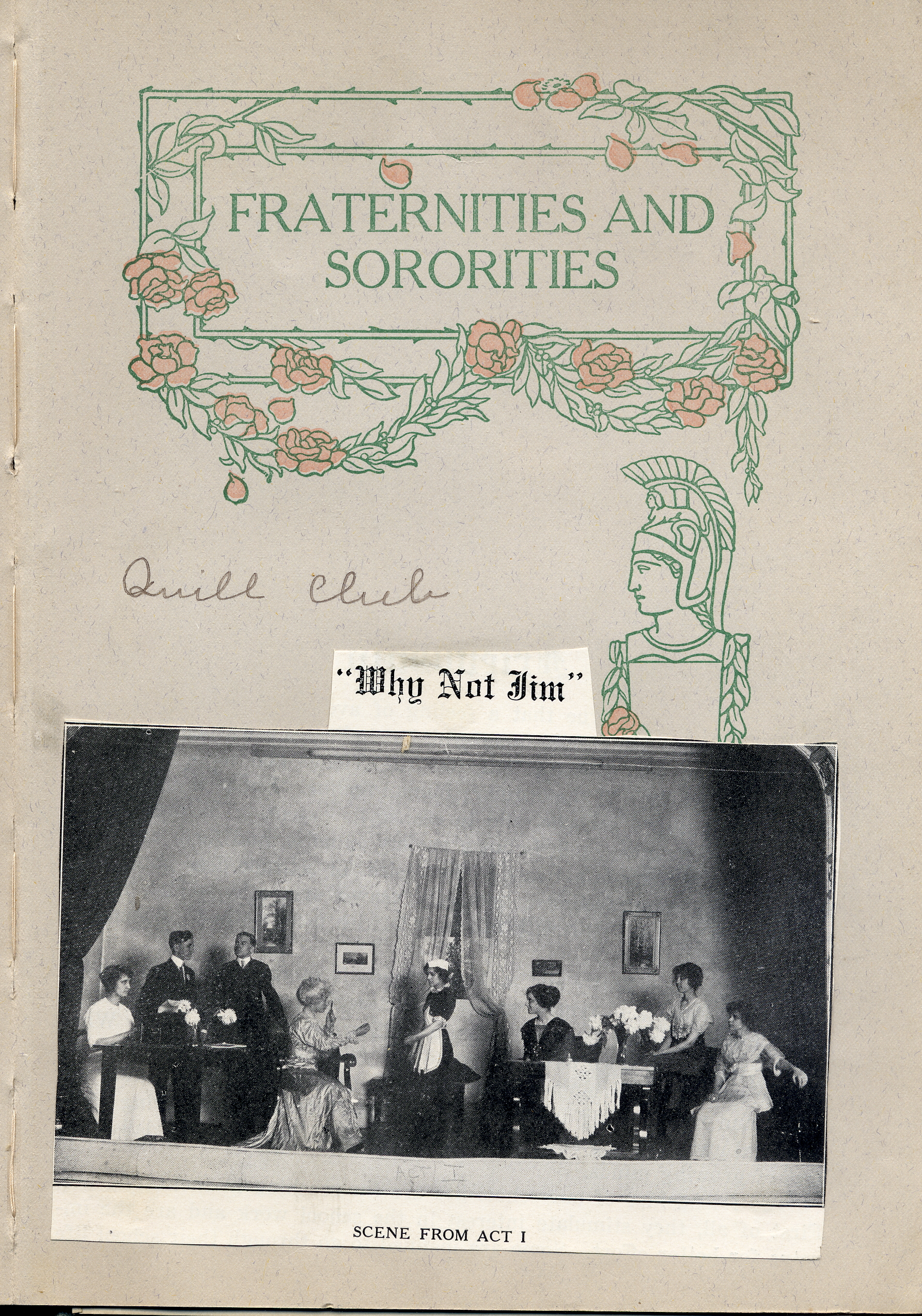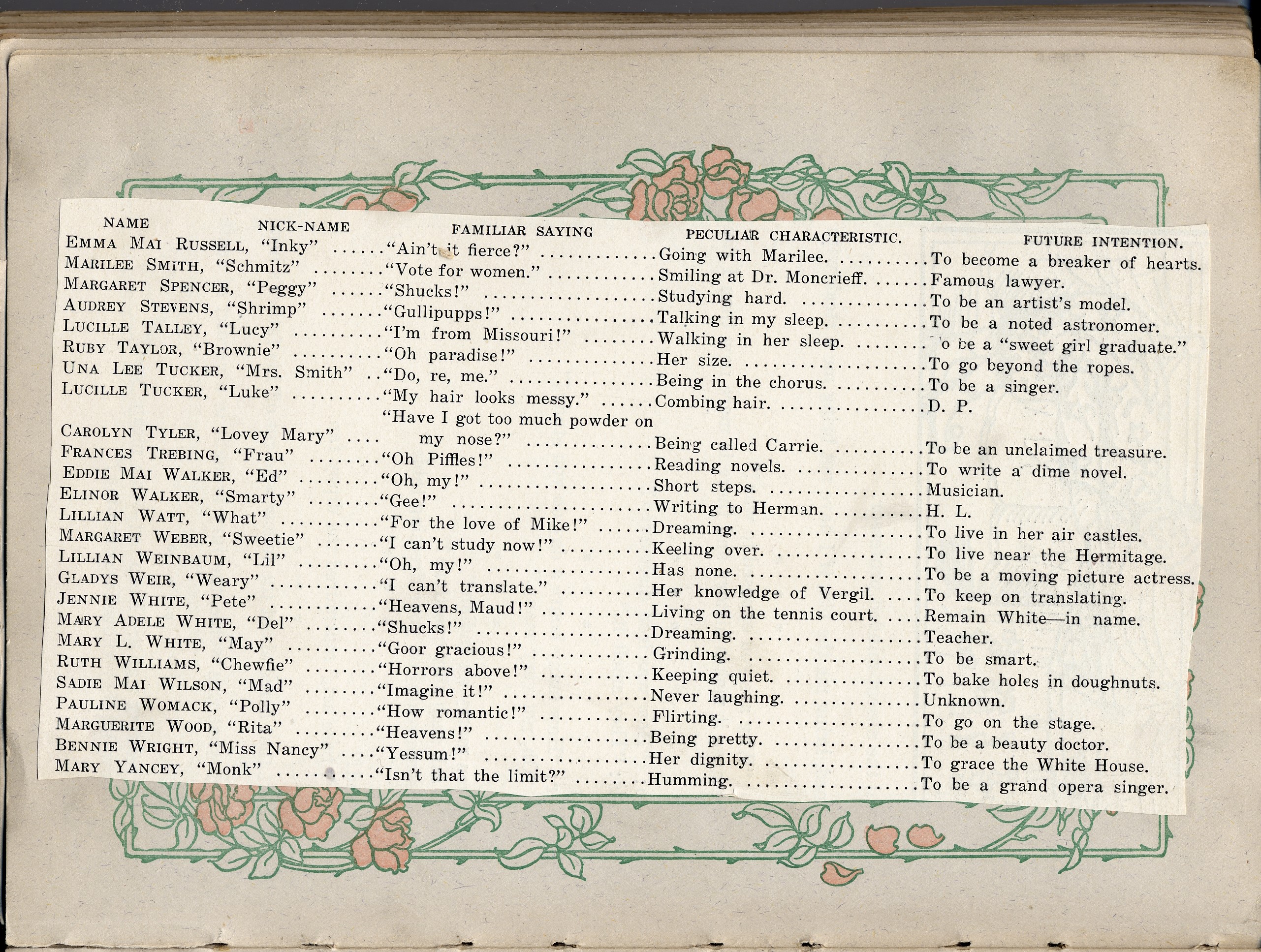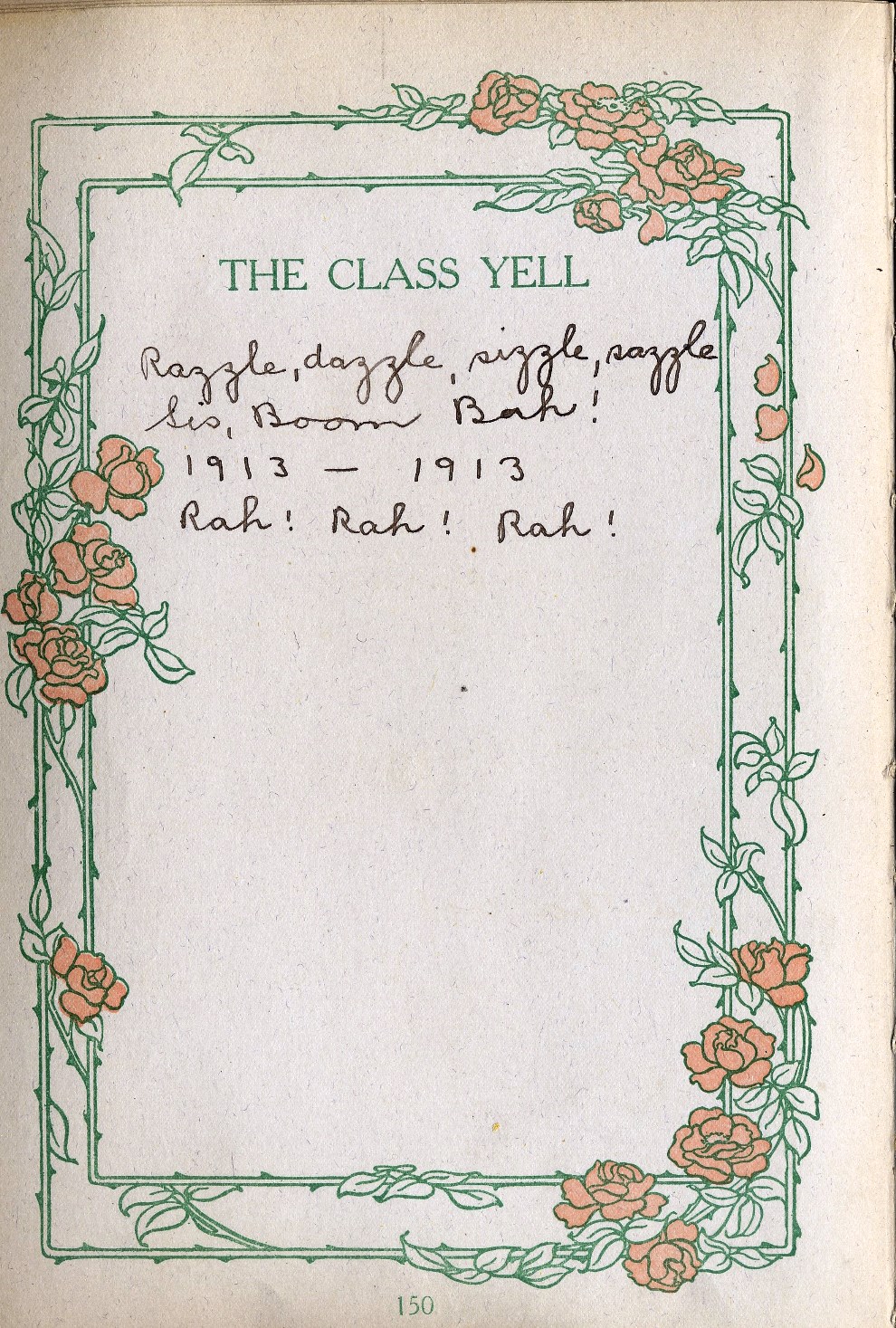 The answer to the quiz will be revealed on Tuesday, on our social media pages! 
Roses are red, violets are blue, thank you for reading this post, stay tuned for next month's when I'll have something new!
- Sarah 
Section
Genre / Topics
Age Groups