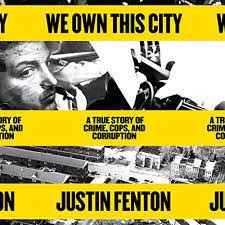 We Own This City, written by former Baltimore Sun reporter Justin Fenton, (now an HBO limited series), is a true crime story covering the shocking corruption inside the Baltimore Police Department.  It also reveals the extreme measures some will go to prevent being charged with their crimes. 
Overview
The Gun Trace Task Force (GTTF), led by Sergeant Wayne Jenkins, was tasked to get guns off the streets. However, Jenkins and his team used this as an opportunity to exploit the city's needs for financial gains. Jenkins and members of the GTTF would take their "cut" from drug busts, illegal searches during traffic stops, and falsified documents to get warrants for search and seizures of private homes. Jenkins and the GTTF would even go as far as planting fake evidence to attempt to validate their illegal activity. This heinous activity spanned for over a decade before the investigation started. 
When the investigation started, certain members of the GTTF were tipped off. Do you think this stopped them? No! I won't go into details, but one would believe you have to stop the bleeding at some point!
There were countless wrongful convictions, an innocent person killed, and much more. It was amazing to find out how many people were involved but turned a blind eye due to the stats the GTTF was achieving. 

Why I Read the Book
When I saw the show was based on the book written by Justin Fenton, I knew I had to check it out. Fenton and his colleagues at the Baltimore Sun were Pulitzer Prize finalists for their work covering the Baltimore Riots after the death of Freddie Grey. His reporting also led to a change in how the Baltimore Police Department investigated sexual assault cases. I knew going into the book I could trust the information Fenton was providing. 

Final Thoughts
Fenton shares the sad truth that some officers in the Baltimore Police Department were willing to pad stats as well as their wallets. This was the largest, modern-day police-involved racketeering case. If you are interested in true crime, corruption, and the impact it has on a community, you need to check out this book.