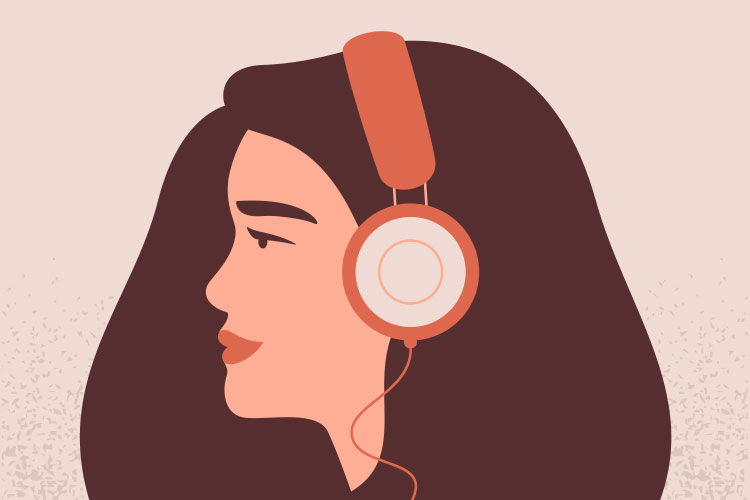 Podcasts have become an integral part of my day. I listen to them on my way to work. I listen to them while I put books back on the shelves here at the library. I even listen to them when I finally decide to fold that pile of laundry I swore I'd get to five days ago. Podcasts are a great way to keep my brain going throughout the mundane tasks of the day, and they usually lift my spirits as well.
I've recently discovered that some of my favorite podcasters have dabbled outside their comfort medium of the spoken word and ventured into the written word world. I always get so disappointed when I've binged all the podcasts episodes available for a show — I can't get enough! So finding out there's a related book is such a relief.
Welcome to Night Vale was my introduction to podcasts. The kooky, strange world this podcast was based in immediately caught my attention and kept me intrigued for hours on end. I usually don't listen to purely fictional podcasts, but this one is special in that is unlike anything else I've ever listened to. This show is ridiculously creative and witty, and before you know it, you're enraptured with the characters, and this book is such a great addition to the lore and the world of Night Vale. If you're into all things spooky, mysterious, and intriguing, I highly recommend you check this one out.
Popular Story of a Wrongful Conviction
One of the most popular podcasts, for good reason, Serial, took us through the story of Adnan Syed and the tragic murder of his high school girlfriend. Mr. Syed was suspected of this murder, and Serial investigated the case, showing a lot of the flaws made in the case and his eventual conviction. The story is infuriating and captivating, and Adnan's Story: The Search for Truth and Justice after Serial goes deeper into the situation, covering a lot of what our favorite podcast did not. 
You Too Can Win at Trivia!
Josh Clark and Chuck Bryant are not only some of the funniest dudes with a podcast, but they also make me extremely good at trivia nights. The Stuff You Should Know podcast teaches us everything we've ever wanted to know about what exactly happened in Pompeii to how exactly an Etch-A-Sketch works. From all the things you've ever wanted to know or things you never knew you wanted to know, these two cover it, and this book takes their podcast a step further. It keeps their witty charm along with amazing fun facts, and, as I said, will definitely make you good at trivia nights.
There are so many true crime podcasts these days, but the ladies from My Favorite Murder are the OGs in this podcast sphere. Not only do Karen and Georgia gracefully cover some of the most gruesome crime cases in human history, they also advocate for self-help and mental health care.
This book is the perfect meeting of both their causes, and also tells the story of how these two women found themselves at the helm of one of the most popular crime podcasts today. If you've listened to the show and wanted more personal quips from the hosts, this is the perfect book for you.
Maintenance Phase has become my absolute favorite podcast. Aubrey Gordon and Michael Hobbes are hilarious together, and they beautifully debunk wellness myths and pull the wool off our eyes when it comes to the diet and health industries. The book that started it all was Gordon's What We Don't Talk About When We Talk About Fat, a beautiful narrative not only about Gordon's experiences with fatphobia but also a deep dive into why fat has been demonized in our culture for so long. It's an eye-opening read that I recommend everyone check out.
No Letdown from the Library
You can always count on the library to have books on your new favorite thing, and I'm so happy knowing that podcast compendiums are included.
Enjoy!
Section
Genre / Topics
Age Groups