Vivien Thomas graduated from Nashville's Pearl High School in 1929. At the time, it was the only high school for African Americans in Middle Tennessee. His goal was to attend medical school, but he lost all of his college savings when the stock market crashed that same year. A friend suggested he apply for a lab technician job at the nearby medical school at Vanderbilt University. The school was all-white and would never admit him as a student, but he could get experience in the medical field and bring him closer to his dream.
"Partners of the Heart"
In his new job, Thomas worked for the cardiology (study of the heart) researcher Dr. Alfred Blalock. Thomas was brilliant and quickly learned complex surgery techniques. Together they did groundbreaking research on blood loss and traumatic shock, all while Thomas was being paid at the rate of a janitor, because of racist job policies. When Dr. Blalock was offered a chief of surgery job at Johns Hopkins University in Baltimore, he made sure Thomas was also hired, and they relocated in 1941.

The research of Vivien Thomas was key to advancing heart surgery, which was an unpopular and feared practice at the time. He developed a corrective surgery for babies with the deadly heart defect known as "blue baby syndrome," and another type of surgery for improving blood circulation. He trained young medical students in his surgery techniques and was considered a legend for his precision and skill. While he gained tremendous respect by his colleagues, he still was not paid fairly because of his race, and his name was often left out of research articles. Thomas remained at Johns Hopkins and eventually became a lab director and member of the faculty, serving as a mentor to the school's first African American medical students admitted in the mid 1960's.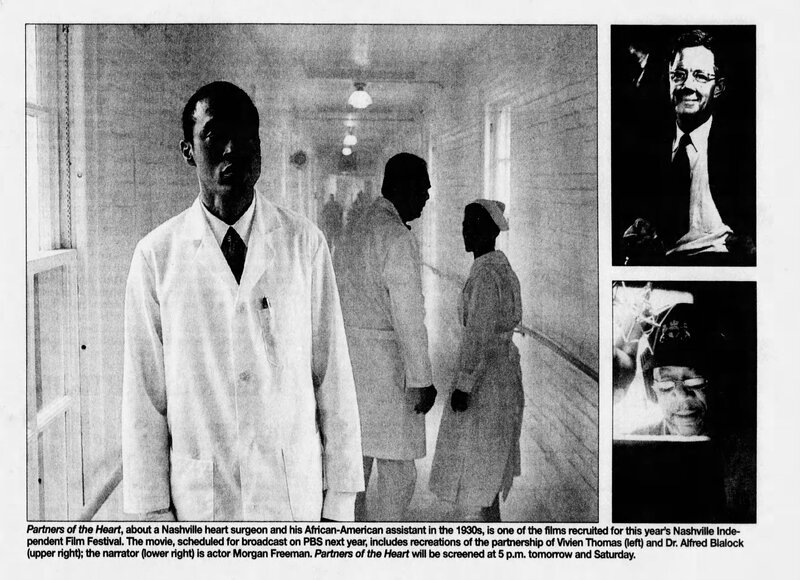 Above: Tennessean clippings from June 2002.
Vivien Thomas's work with Dr. Blalock laid the groundwork for what is now modern heart surgery. Thomas wrote his autobiography in retirement, which published just days after his death in 1985. It is available for view in our Civil Rights Collection at our Main Library. In 2003, PBS aired a documentary about his life and work called Partners of the Heart, and HBO released a film adaptation in 2004 called Something the Lord Made starring Mos Def. Both are available for checkout in our collection. 
Learn More About Medical Research
The All of Us Research Program is a national health study that seeks to enroll 1 million people, from diverse backgrounds, to create the world's largest health data set. This data will help medical breakthroughs happen more quickly and benefit people of all backgrounds.
clinicaltrials.gov maintains an updated list of trials that are currently enrolling participants. You can search by location and health condition, with opportunities spanning the globe.
Section
Genre / Topics
Age Groups