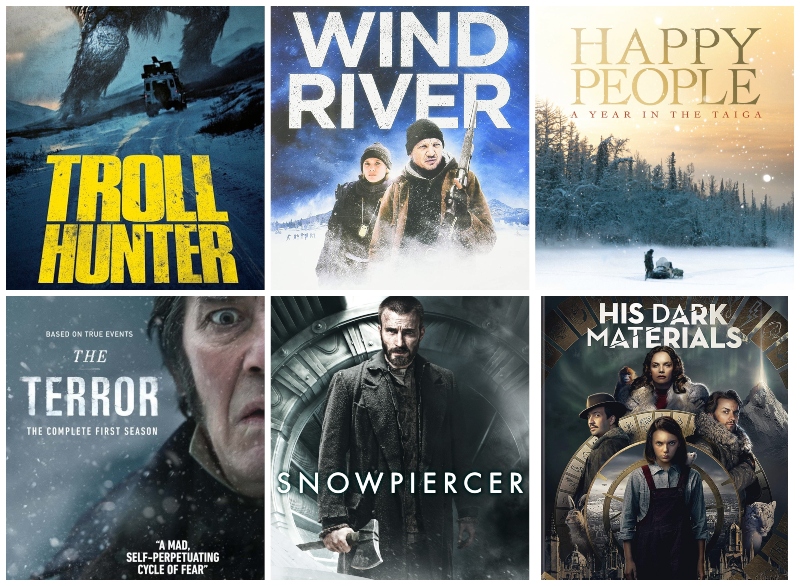 A Norwegian found footage horror mockumentary about a group of college kids who discover the subject of their film project is not a bear poacher as originally suspected, but a troll hunter.  
Wind River
This murder mystery takes place in Wyoming on the Wind River Reservation and was created by filmmaker Taylor Sheridan to draw attention to missing and murdered indigenous women.   
Happy People: A Year in the Taiga
Originally a four-hour documentary by Dmitry Vasyukov, this film by Werner Herzog depicts life in a remote village in the Siberian taiga.
The Terror 
The first season of this horror anthology is a fictionalized account of two real life Royal Navy ships that were lost in the Arctic while searching for the Northwest Passage.   
Snowpiercer
South Korean filmmaker Bong Joon-ho takes viewers on a terrifying train ride in this sci-fi adventure about global warming and class warfare.   
His Dark Materials
This coming-of-age fantasy series based on the novels by Philip Pullman (not to be confused with the 2007 film) follows young Lyra Belacqua and Will Parry on their quest for truth as they uncover a sinister plot.  
Section
Genre / Topics
Age Groups