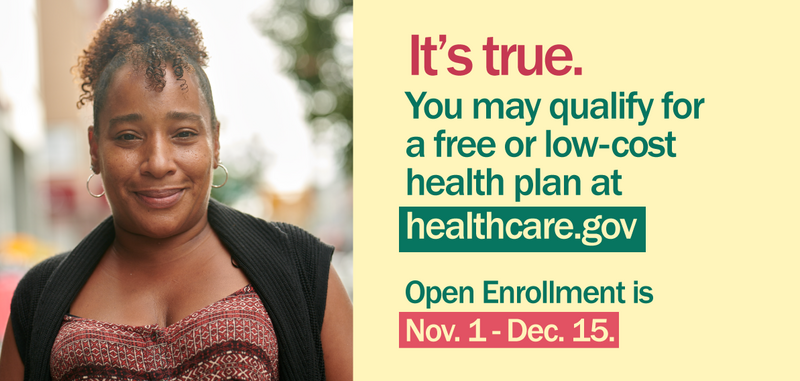 For the past seven years, Aida Whitfield, from the organization Family and Children's Services, has been helping people sign up for health insurance at Nashville Public Library branch locations. She is a Certified Navigator, which means she is trained to give free, unbiased help enrolling in health insurance on the Marketplace. She helps you compare plans and understand health insurance terms and deadlines.
Aida has seen the benefit of partnering with NPL around enrollment. "When I tell clients that I can meet them at a library branch, they always tell me 'Oh yeah I know that library—I have been there to vote, or that is where I check out a book, or that is where I took ESL class, use a computer, or attend a yoga class.' "
With our buildings still closed, Aida and other Navigators won't be offering in-person support at the library, but they will be taking appointments over the phone and through video conference. There will also be a limited number of in-person appointments available at the Family and Children's Services office in North Nashville.
FAQs
I feel healthy, why do I need health insurance?
There are many benefits to enrolling in a plan on the Marketplace.
Most preventive care is free. This includes blood pressure screening, type 2 diabetes screening, mammogram, cervical cancer screening, flu shot, birth control and more.
You can avoid huge medical debt. Health insurance helps pay the big medical bills from an accidental injury or new health problem. 
Seeing a primary care doctor each year can keep you healthy and detect medical problems early. 
All plans on the Marketplace are legally required to help pay for 10 essential health benefits such as having a baby, seeing a mental health therapist, and filling prescriptions. This is not the case for many short term health insurance plans, which can opt-out of coverage for certain services.
How much will I pay for a plan on the Marketplace?
Last year 8 out of 10 people who bought health insurance on the Marketplace qualified for financial aid. You can estimate your financial aid and preview plans by entering your income and household information on the healthcare.gov website. You do not need to create an account to do this.
I would like one-on-one help. How do I make an appointment with a Certified Navigator?
You can book a phone or video conference appointment on www.getcoveredtenn.org by choosing a date and time in the calendar. Appointments are available in English, Spanish, Arabic, and Amharic. Interpretation services are available for other languages. You can also call 1-866-475-7879 to book an appointment.
What should I bring to my appointment?
Proof of income, such as your 2019 tax return, W-2 forms, current paystubs or other household's income information
Social Security Numbers and birth dates for household members
Document numbers for eligible immigrants who want health coverage
Healthcare.gov username and password, if you have created a login before
List of your doctors and medicines, to see which plans cover them and what they will cost
Information about any health coverage from a job that's available to you or your household

Section
Genre / Topics
Age Groups