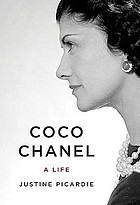 Coco Chanel the Legend and the Life
By Justine Picardie
Fashion columnist and author Justine Picardie has produced a well written, beautifully laid out, fun to read biography on Coco Chanel. The book is filled with great black and photos of Chanel and her inner circle and also features sketches by Karl Lagerfeld. Photographs are liberally interspersed throughout the entire book. Picardie takes a tough look at the woman and the myth, and at times Chanel does not always come out as likeable. What you have to admire is how Chanel took control of her life and changed it, and in the process changed fashion and the way we dress today.
While you're reading about Coco Chanel, I would recommend looking at Chanel by Harold Koda. In 2005 the Metropolitan Museum of Art had a Chanel retrospective, this book was the exhibit catalog. It features over 200 pages of photos of Chanel's designs, including clothing, jewelry, hats, perfume bottles, purses and shoes. The exhibit showcased fashions created by Chanel and by Karl Lagerfeld for the House of Chanel.  Be sure to read the catalog section in the appendix, for details on each piece: the designer, the year it was made, the materials used and most interestingly, the sewing techniques.
With these two books, you can now read about the little black dress and see it in all of its glorious detail.
-Karen
By