Author Focus: Joyce Sidman
Because it's winter, and I've been snuggling under a warm blanket reading poetry, the author focus this month is about the pasionate and prolific poet, Joyce Sidman.
Joyce lives with her husband and dog near a large woodland in Wayzata, Minnesota, where she spends a lot of time pondering the world and walking in the woods. Joyce uses her inspiration from the natural world to create her award-winning books of poetry for children. You can see pictures of her explorations on her Out & About blog (all great pictures to print out and collect for urban children!).
Sidman teaches poetry writing to school children and participates in many national poetry events. You can find some of her poem starters for beginners on her website. And she thinks about chocolate most all the time (just like me!). For more about Sidman and how she develops her work, read her interview with Julie Danielson (of the blog Seven Impossible Things Before Breakfast) from 2010.
Sidman's books express the wonder of all creation, and each poem is a small celebration of the life all around us.  She often intersperses her poems with facts about the animals, plants or environments, so her work is a wonderful way to introduce the natural world to preschoolers…and others.
Here's some of my favorite Joyce Sidman books for little ones, along with a snippet from a poem in each book:
Winter Bees by Joyce Sidman & Rick Allen

Rick Allen's delicate and detailed prints make a gorgeous accompaniment to Sidman's lyrical words. We meet a red fox on the cover, who leads us stealthily through the book. (I think I met him before, traipsing through the snow on the final page of Song of the Water Boatman!) Sometimes he is discovered in the margins, other times we see only footprints, however he appears, he provides a lovely through line.  The poems - meant to answer the question "What do animals do in winter?" - feature portraits of dreaming swans, a rascally moose, bees that burn like a golden sun, beavers that build with ripped chips and thrashing twigs, along with other denizens of the winter woodland.  The poetry has young child appeal and the facts that accompany each poem will appeal to the older ones.  This is a stunningly beautiful book.
From the title poem "Winter Bees"
We scaled a million blooms

to reap the summer's glow.

Now, in the merciless cold,

we share each morsel of heat,

each honeyed crumb.

We cram to a sizzling ball

to warm our queen, our heart, our home.
Red Sings from Treetops by Joyce Sidman, illustrated by Pamela Zagarenski
A whimsical tribute to the colors of the seasons, the words and pictures spin enchanting duets on each page. Zagarenski, in folk art inspired mixed media paintings, gives us a serene queen and her royal dog who glide gracefully through each color filled scene, as the poems and the world of the illustrations shine. There is a nice print awareness touch as well, as print is often incorporated into the paintings, and the color words are highlighted on each page.
From the poem "Spring" from Red Sings from Treetops
In SPRING,

Red sings

from treetops:

cheer-cheer-cheer,

each note dropping

like a cherry

into my ear.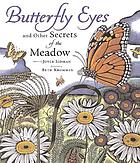 Butterfly Eyes and Other Secrets of the Meadow written by Joyce Sidman, illustrated by Beth Krommes
This book offers a guessing game with poems that end in questions: "What Am I?" The intricate scratch board illustrations give us clues, and the next page tells us about the animal in question.  The dialogue between picture and word is perfectly placed on the page, making this one of Sidman's most pleasing reading experiences.  Sidman and Krommes also collaborated on one of my favorite nature books, Swirl by Swirl, which we reviewed previously.
From the poem "Bubble Song" in Butterfly Eyes…
Beautiful bubbles

bubbles of pearl,

all in a clustery, bubbly swirl

Bubbles I blow

From my own bubble-spout

(I'll never

                    I'll never

                                                         I'll never come out!)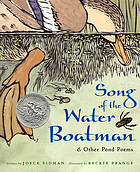 Song of the Water Boatman & Other Pond Poems by Joyce Sidman, Illustrated by Beckie Prange
This book won the Caldecott Honor Book award in 2006, and offers a vivid pond's-eye view of water that teems with life from wet spring to icy winter.  Our perspective soars as we explore the outer reaches of the pond, the animal life sustained by the water, ferocious insects and even the microscopic critters who inhabit this watery world. Sidman's poems provide personality, Prange's woodcuts mood and mystery, while also engaging us with the amazing science of life.
From "Song of the Water Boatman and Backswimmer's Refrain"
Down through the jolly waters green,

I stroke with legs both long and lean,

like a streamlined Class-A submarine

…on a sunny summer's morning

                Yo, ho, ho,

                the pond winds blow

                 and upside down is the way to go.
Got anything to say? Go ahead and leave a comment!
Bringing Books to Life
Bringing Books to Life helps educators and parents find fun and innovative ways to inspire children to read.
Books & Literacy Tips Topics