Arrr! Talk Like a Pirate!
Avast, ye buckos!
It's September 19th, also known as Talk like a Pirate Day.  This national holiday-of-sorts is the result of a racquetball game gone silly, and a plea to columnist Dave Barry for public awareness.
We know lots of little pirates who like to play dress up and swash-buckle around the house, so we thought we would give you the basic tips and picture books that will make your day special.
According to John Baur and Mark Summers, Pirate Captains and founders of Talk Like a Pirate Day, the basic phrases you need to talk like a pirate are the "Five A's"
Ahoy            "hello or greetings"
Avast            "stand and give attention"
Aye                "Yes, I agree with everything you just said or did."
Aye-Aye        "Yes, Mom, I'll get right on that."
Arrrr              Anything. "I'm tired," or  "I want a muffin."
With those 5 words you, too, can pirate-talk like a pro.  You can also choose a kid-friendly pirate name at A Magical Childhood blog (Green Tooth Gert for me!).  Here are a few book treasures that are chock-full of pirate talk:

Bubble Bath Pirates  by Jarrett J. Krosoczka
Here be a boundin' book 'bout bath time whar scurvy pirate Mommy helps her wee salty dogs get spit shine as they swim wit' th' duckies. Plenty 'o scurvy pirate speak to heartily enjoy as well as colorful artwork that makes bathtime a blast…literally! This be a terrific book fer scurvy pirate obsessed wee ones, as well as them who have a bit 'o bathtime dread, 'n need a way to lighten up th' nightly soakin'.

Captain Abdul's Pirate School  by Colin McNaughton
Colin McNaughton be at his most scandalously naughty as a crew 'o miserable sword fightin' academy children (girl swabbies included!) be sent to cap'n Abdul, "hairy, scary, 'n wit' more parts missin' than a secondhand jigsaw puzzle", to be taught th' finer points 'o piratin' by an enthusiastic, rhymin' band 'o pirates. "Me Khan th' Really Nasty be. I teaches pirate poetry"  Th' characters be irresistible, 'n McNaughton creates a fanciful seven seas full 'o ruckas to explore, wit' a final mutiny that leads to every scurvy pirate child's dream!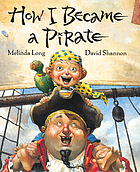 How I Became a Pirate by Melinda Long, illustrated by David Shannon.
Proud beauty, Melinda Long, gives us an adventure story wit' boatloads 'o salty pirate speak. Foul blaggart David Shannon's artwork shows th' scurvy pirate life experienced by a jim laddie who abandons his land-lubbin' parents to set out fer th' high seas. This delightful yarn features th' "scurvy pirate crew echo". It seems that whatever be said by th' cap'n, th' last phrase be echoed enthusiasticly in-unison by th' crew. It provides a great way to share th' joy 'o readin' wit' ye child, 'n makes slopping cereal in the galley much more excitin' . Ooh – Arrgh!

A Pirates Guide to Recess 
Sailing fer treasure 'n adventure, Cap'n Red 'n Pirate Molly 'ave a little yo-ho-ho as we spy 'em adrift on th' vast playground sea wit a scurvy band o' gruesome, 'n generally invisible, pirate friends.  Preller spins th' entire yarn in pirate shout, so 'tis a great one fer pickin' up th' lingo. This book sails in after A Pirate's Guide to First Grade, w'ar ye'll find tips fer swashbucklin' ye way around th' school day. Yar, me hearties, fer these books make delightful read-alouds!
Other scurvy pirate picture books be:
Or you could d'liver a scurvy chapter book, and read-aloud the likes of Treasure Island or Peter Pan.
See you on the poop deck.  (I couldn't resist) Arrr…
Green Tooth Gert
Got anything to say? Go ahead and leave a comment!
Bringing Books to Life
Bringing Books to Life helps educators and parents find fun and innovative ways to inspire children to read.
Books & Literacy Tips Topics