Biographies in Picture Books
Recently, we asked our NPL Facebook friends to give us some feedback. "What kinds of books would you like us to write about?" And we got lots of good suggestions, including this one: picture books about biographies.
I have to admit that I was particularly delighted to delve into this topic! As a child, I spent much of my time sprawled in the floor of my local library, pouring over biographies. (Unfortunately, there were not as many picture book options as there are today!) There was something intriguing about considering famous figures, such as Abraham Lincoln, as children. I latched onto the personal stories of triumph over illness, surviving wars or famine, and dreaming up new inventions. I came to appreciate new figures that I didn't know had made significant contributions to society, such as the inventor of the modern day swimsuit.  And most importantly, I found common threads in their stories and my own. I wondered what my biography would look like someday.
Why read biographies to preschoolers? Introducing biographies to children helps them connect to their own story, their family's story, and lays the groundwork for a love of history. After all, history is a collection of individuals' stories!
Get started with one of these great books, and soon you'll have your own little biography lover!
The Fantastic Undersea Life of Jacques Cousteau by Dan Yaccarino
The whimsical illustrations by author, Dan Yaccarino, invite you into this story from the first crack of the book. Jacques is portrayed as a problem solver, who searches for creative solutions to everything from building his physical strength, to how to safely spend more time underwater. Children will relate to the significance of a small gift from a friend:
A friend gave him a pair of goggles so that he could see underwater. Those goggles changed his life forever.
Another unique feature of this book is that each 2-page spread features a quote from Cousteau, which floats in a bubble, as if rising through the water.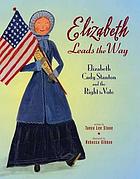 Elizabeth Leads the Way: Elizabeth Cady Stanton and the Right to Vote by Tanya Lee Stone
Although women's voting rights seems like a tall order for a picture book, this story immediately becomes relevant to the young reader with the first lines:
What would you do if someone told you can't be what you want to be because you're a girl? …Would you ask why? Would you talk back?… Elizabeth did.
Through simple illustrations and approachable language, the book follows Elizabeth's life from childhood to the women's rights convention.
Mister and Lady Day: Billie Holiday and the Dog Who Loved Her by Amy Novesky
While this book does not follow the typical arc of biographies, from birth to end-of life, I find it particularly charming because of the focus on her relationship with her dog. The book describes the starlet, Billie Holiday like this:
But sometimes stars don't feel like shining. They need someone to listen. That's what friends are for. Lady Day's dogs were her best friends of all.
Billie's dog, Mister, remains by her side through thick and thin. This memorable relationship comes alive through the creative illustrations by Vanessa Brantley Newton. She utilizes a combination of photographs, actual items (like musical scores), and cartoon drawings to portray Billie's world.
Other fantastic biographical picture books:
Mermaid Queen by Shana Corey
Nothing but Trouble: The Story of Althea Gibson by Sue Stauffacher
Wilma Unlimited: How Wilma Rudolph Became the World's Fastest Woman by Kathleen Krull
Keep Your Eye on the Kid: The Early Years of Buster Keaton by Catherine Brighton
Clemente! By Willie Perdomo
What Charlie Heard by Mordicai Gerstein
Snowflake Bentley by Jacqueline Briggs Martin
The Watcher: Jane Goodall's Life with the Chimps by Jeanette Winter
On a Beam of Light: A Story of Albert Einstein by Jennifer Berne
Got anything to say? Go ahead and leave a comment!
Bringing Books to Life
Bringing Books to Life helps educators and parents find fun and innovative ways to inspire children to read.
Books & Literacy Tips Topics