Essential Literature: Duck on a Bike
I'm so pleased that Duck on a Bike by David Shannon was chosen for Alignment Nashville's list of Pre-K Essential Literature. This deceptively simple story for toddlers and preschoolers is all about thinking, perspective and taking the risk of enjoying a new experience. Duck is a rebel, and he inspires each one of us to throw caution to the wind and enjoy the ride.
Duck sizes up a bike parked in the driveway, hops on and takes off, tossing a cheery "Hello!" to each farm animal he passes. The animals respond with a typical animal sound, but when their thoughts are revealed ("what they really meant was…") they give us unexpected responses:
Cow sniffs: "A duck on a bike?  That's the silliest thing I've ever seen!"
Sheep chides: "He's going to hurt himself if he's not careful!"
Dog pants: "That is a mighty neat trick!"
Cat gets…well, catty: "I wouldn't waste my time riding a bike."
The results are a book that works on several levels. First, we have a phonological awareness book. Shannon says he wrote Duck on a Bike because his daughter was just beginning to talk and she love making animal sounds. Words such as "moo" and "baa" are a toddlers first introductions to common consonant and vowel sounds. There is a reason we sing "Old MacDonald" over and over again!
This book is also about inspiration and where we find it. The author was out for a walk and was thinking about a duck…when a bicycle zoomed by. "A duck on a bike," he chuckled, and a new children's book was born. Inspiration is all around us, and sometimes we a lucky enough to catch it as it whizzes by.
Many will be familiar with Shannon's best known book No, David!, illustrated in exuberant childlike scribble. Duck on a Bike offers more a more painterly view, with expressive color and perspective that shifts as Duck cruises by, a lovely visual touch that reinforces each animal's unique perspective and opinion on Duck's bike.
The chicken sees the big wheel of the bike as a life-threatening situation, and the goat sees it as a potential snack. The cat turns her back disdainfully as duck wheels away in the background, while the dog playfully races alongside.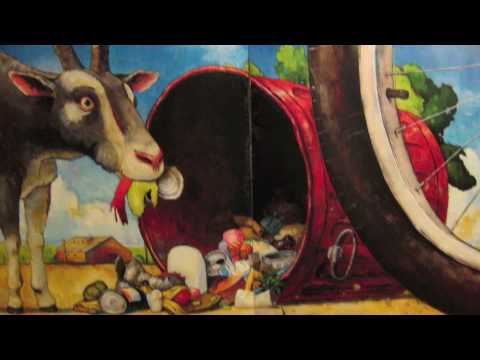 For preschoolers, try to guess what each animal is thinking. There are moments for prediction throughout.
Duck on a Bike is more than just a supremely silly story that gives us a giggle. Shannon's daffy situation offers a young child a variety of perspectives and interpretations of the same event, and it does so without moralizing or preaching. It's a fabulous idea.  However, it's the good giggle that will have your toddler asking you to read it again!
Got anything to say? Go ahead and leave a comment!
Bringing Books to Life
Bringing Books to Life helps educators and parents find fun and innovative ways to inspire children to read.
Books & Literacy Tips Topics