Author Focus: George Ella Lyon
I bumped into writer George Ella Lyon last year, and was reminded of how much I enjoy her children's books. George Ella is an author with a strong sense of place; her books often spring from her affinity with nature that is rooted in the mountains of eastern Kentucky, where she was raised.
George Ella writes, "I believe that when we write or dance, sing or draw or practice any of the arts: we're listening to our hearts and expressing what we hear. And…when we are the readers or the audience for what's been created, we hear someone else's heart speaking, which helps us hear our own, and feel how we are all connected."
Her words often speak deeply to me, for I have roots in the East Tennessee hills, but I think George Ella's sense of rhythm and wonder is universal. Read this excerpt from her book about words entitled, most simply, Book
A BOOK is a HOUSE
That is all windows and doors.
Some walls are slick
With the zing of ink
Some old and cloth-soft,
Smelling of dust.
Walk in.
Find your way.
Light falls
Through a window of words.
Indeed, this is a book lover's book! A book is a home, a treasure chest and a field seeded with words and a best friend (Lyon uses the phrase "boon companion."  Great words!). The illustrations by Peter Catalanotto add to Lyon's poetic language with visual poems that do riffs on words and pictures the way a jazz musician plays with sound. Catalonotto pairs with Lyon on many of her best books, as does the ever wild and wooly illustrator Stephen Gammell.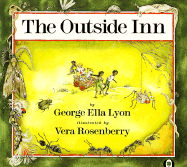 You will also find in Lyon's writing a playful sense of humor – batting ideas and words around to see what can be made from them – as she does in my favorite summertime book The Outside Inn, which offers not only a great pun in the title, but also pictures of creepy crawlies with the words "Mm mm mm"  and "Yum" all over the front pages drawn with loving detail by Vera Rosenberry. Within, delicious delicacies such as "ants with ketchup," "puddle ink," or "slugs in a sack" are offered up by children who playfully turn their wooded world into an opportunity to dine in Huck Finnish formality. This book will elicit groans and laughter from the most serious children, and nostalgic stories from parents who dabbled in mud-pies served creekside as a child.
My favorite recent book of hers is All the Water in the World, illustrated by Katherine Tillotson in flowing painted images.
Water doesn't come.  It goes.  Around.
That rain that cascaded from clouds
And meandered down mountain,
That wavered over waterfalls
then slipped into rivers and opened into oceans
that rain has been here before 
With a much needed look at the natural world that is accessible for preschoolers, Lyon explores the water cycle in colorful words and pictures, explaining condensation and encouraging the protection of our rivers and streams.  It is perfect for a preschool classroom's exploration of water or a discussion of not wasting water from the tap.  The vocabulary is rich and Lyon's rhythm and cadence has a poet's touch. This book will spark a lot of talk about water words with older preschoolers. I can also see this book leading into a science experiment about water and for great ideas you can seek out I Get Wet by Vickie Cobb.
With a background as a folksinger, George Ella recently published a children's book about the writing of the union song Which Side are You On? during the miner's strikes of the 1930s. I was surprised and tickled to find this little known bit of history put into a children's book, and immediately purchased it for my own collection.
The history of Kentucky miner's fight for a union and the writing of a song as bullets rain down on a house filled with children is not a "must read" for preschoolers. However, this book is unique and is one that should be shared with all upper elementary and middle school students.
Teachers can check out George Ella's website for lesson plans to accompany her books, and she has a Frequently Asked Questions page for children that addresses questions from children such as: "Where did you get your strange name?" and "Where do you get your ideas?" as well as pics of George Ella Lyon when she was a girl.
Here are a few more beautiful books to share with a special child by George Ella Lyon. See all her books at the Nashville Public Library.
Got anything to say? Go ahead and leave a comment!
Bringing Books to Life
Bringing Books to Life helps educators and parents find fun and innovative ways to inspire children to read.
Books & Literacy Tips Topics