Dream Something Big!
Art is where you find it…and these are books that will inspire you to dream big and create something beautiful from the simple recycled materials you may find around you.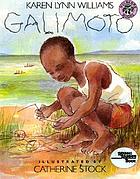 Galimoto by Karen Lynn Williams
In a small village in Malawi, a young boy named Kondi barters with friends… negotiating his way through many challenges…to collect bits of wire to build a moving toy called a Galimoto or "car".  The story presents a wonderful example of the creativity and determination it takes to make a special work of art, and the  watercolor illustrations by Catherine Stock are completely winning as they capture the activity of Kondi's community.  This book is highly recommended for preschoolers and up.

Roxaboxen by Alice McLerran; illustrated by Barbara Cooney.
A hill covered with cactus, rocks and wooden boxes becomes an imaginary town for a group of creative children in Arizona at the turn of the century.  This book will delight everyone whose ever looked for buried treasure or make a special place for play with only rocks and sticks.  The story is a timeless look at what it means to be a child.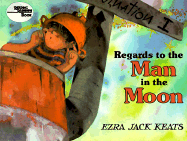 Regards to the Man in the Moon by Ezra Jack Keats
Louie's dad is the Junk Man and everyone makes fun of him.   Louie is ashamed until his dad shows him that junk can be made into wonderful things…then Louie's yard becomes command central for voyages to outer space.  Keats' artwork is, as always, amazing.  And, as a part of his neighborhood saga,  Louie is my favorite ongoing character from Keats' many books.
Dream Something Big: The Story of the Watts Towers   by Dianna Hutts Aston; collages by Susan L. Roth.
This book tells an important story about a vibrant piece of folk art and the community that watched it grow.  Based on the real story of Italian immigrant Sam Rodia who built the Watts Towers in a Los Angeles neighborhood, the tale is told by a small friend who helps him find bits and pieces to help make his historic work of art. Susan Roth adds to the story with her brilliantly colorful illustrations.
Here are some more craft books with ideas for making art from recycled materials:
ReMake It! : Recycling projects from the stuff you usually scrap   by Tiffany Threadgould
Make It!  by Jane Bull
Art with Anything : 52 weeks of fun using everyday stuff  by  MaryAnn F. Kohl
Where can you find junk to re-purpose into art?  All over your house!  You can use any kind of paper, metal, wire, foil, old toys, old kitchen items or tools.  There are a also several places in Nashville to seek out reusable art materials:  Turnip Green Creative Reuse  and  Creative Reuse Center, Inc.  For reuse centers in your state or town try this link.   Then get inspired by the artwork of  Richard Lang and Judith Selby Lang who gather plastic from the beach and use it to create beautiful works of art.
Got anything to say? Go ahead and leave a comment!
Bringing Books to Life
Bringing Books to Life helps educators and parents find fun and innovative ways to inspire children to read.
Books & Literacy Tips Topics