Hey, Mr. President!
Presidents' Day is fast approaching and here are a few good reads about the accomplishments and follies of some of our more famous presidents.
Abe Lincoln's Dream  written and illustrated by Lane Smith
The artwork in this delightful book really steals the show…Lane Smith has packed every image with intricate texture and detail, often inspired by the detail in the US dollar bill.  The  story of a little girl who meets the ghost of Abe on a tour of the White House is a harmonious combination of fact, fantasy and fun.  A wonderful book to share with your child on Presidents' Day.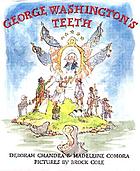 George Washington's Teeth  by Deborah Chandra & Madeleine Comora, pictures by Brock Cole
Poor George Washington just couldn't keep a tooth in his head, and for children who are just beginning to lose their teeth, it will be a reminder that they aren't the only ones.  This account of George's dental woes has delightful pen and ink sketches by Brock Cole that will tickle your funny bone and the bouncy rhyming text keeps the story moving.  A good way to demythologize one of our great founding fathers.
The House that George Built  by Suzanne Slade, Illustrated by Rebecca Bond

This book has two layers, the first a simple rhyme based on "The House that Jack Built."  This can be read for younger children and the pictures discussed to discover what's going on.  The other layer is a longer, more detailed text on the opposing page that will hold the interest of older children who want to get more information about construction practices before there were machines to do the work…although the number of workers involved and the role of slavery in the building of the White House is far underestimated by the authors (out of the actual 600 workers, 400 were slaves or their overseers).
Got anything to say? Go ahead and leave a comment!
Bringing Books to Life
Bringing Books to Life helps educators and parents find fun and innovative ways to inspire children to read.
Books & Literacy Tips Topics