Margaret Atwood's Books for Children
Although she is perhaps best known as the writer of The Handmaid's Tale and other novels, Margaret Atwood also has several books for children to her credit. Take an opportunity to introduce your child to one of the giants of modern literature by reading some books written especially for them.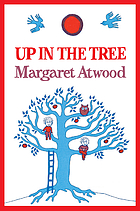 Up in the Tree was first published in 1978. At the time, Canadian publishers were convinced that it was not profitable to publish a children's book for that country's audience. To save on costs, Atwood took matters into her own hands, writing and illustrating the book herself. She hand-lettered the book's typeface, and her black and white pen-and-ink drawings were rendered in blue and red, the only two colors available (which could be mixed together to create a brown color). Up in the Tree was reissued as a facsimile edition in 2005, bringing the simple charms of this book to a contemporary audience. Two small children who love living "way up in a tree" find it is not much fun when their ladder is eaten by hungry beavers. The book's use of rhymes and repetition make it a great text to read aloud to young children, and beginning readers can easily approach the text as they learn to read independently.

Atwood follows a similar formula for both Rude Ramsay and the Roaring Radishes and Bashful Bob and Doleful Dorinda. In these delightful read-aloud books, Atwood uses alliteration to a fun and tongue-twisting effect. In Rude Ramsay and the Roaring Radishes, the letter "R" is used throughout the story of Rude Ramsay, a red-haired boy who lives in a "ramshackle rectangular residence." His "revolving relatives, Ron, Rollo, and Ruby," force him to eat "revolting repasts" of "roasted rice, raisins, rutabagas, and rhinoceros." Tired of their abuse, Ramsay escapes through a rat hole to a garden filled with some rather unusual radishes. He soon begins a new life with a new friend by his side.
Atwood revisits the theme of solitary children in Bashful Bob and Doleful Dorinda.

Using primarily the letters "B" and "D", Atwood tells a story of a Bob, a boy raised by dogs ("a boxer, a beagle, and a borzoi") and Dorinda, a girl "dumped on distant relatives" following her parents' "dreadful disappearance." When Dorinda decides to run away, she comes upon Bob, who cannot speak, but only bark. Dorinda and Bob eventually get their happy ending, but not before getting into a major adventure involving a misplaced buffalo. Both books provide a host of new vocabulary words to introduce to your child and both were illustrated by Serbian born artist Duŝan Petričič. His artwork is  saturated in color and ink; sometimes moody, and at other times full of light.
After introducing your children to Margaret Atwood (including other titles available from other libraries), be sure to check out one of her many other works for grown-ups,  including poetry, nonfiction, and short stories, all available at the Nashville Public Library!

Got anything to say? Go ahead and leave a comment!
Books & Literacy Tips Topics